Marcus
Marcus
Marcus is an active 35-year-old and has been diagnosed with Autosomal Dominant Polycystic Kidney Disease (ADPKD). He has high blood pressure, but it is well-controlled with medication. PKD has affected Marcus' daily life as he has suffered from lower back and side pain for the past 10 years. Marcus has also had a cyst infection and a few episodes of blood in the urine. Marcus does not have a family history of kidney disease and he is very anxious about what his future holds.
Let's take a closer look at some tests Marcus' kidney doctor has ordered to better understand how quickly Marcus might progress to kidney failure1,2.
Age

35

Height

5'11"

Weight

171 lbs

Sex

M

Race (AA/O)

AA
Lab Tests
Standard Range
Serum Creatinine

(mg/dL)

1.15
0.50 - 1.20
eGFR

(mL/min/1.73m²)

97

≥

60

Blood Pressure

(mmHg)

130/80

(High, Controlled with Medication)

<

120/80

Blood in Urine

Yes
Pain

Yes
Family History

No
Imaging Tests
Standard Range
MRI Ordered?

Yes
Kidney Size

(mL/m)

1343
150-250
ADPKD Imaging Classification

ESTIMATED AGE AT KIDNEY FAILURE51

MRI/CT SCANS
Disease Progression3-5
Kidney Size (height adjusted Total Kidney Volume)
:
1343.0
mL/m
Kidney function (eGFR)
:
97.0
 mL/min/1.73m2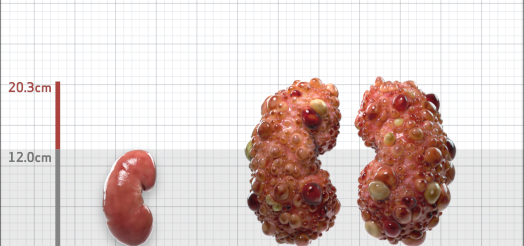 Click on the flags below to see the testing used to confirm risk of rapid disease progression as well as Marcus' individual risk
ADPKD=autosomal dominant polycystic kidney disease; PKD=polycystic kidney disease; TKV=total kidney volume; AA=African American; O=other; eGFR=estimated glomerular filtration rate; ESKD=end stage kidney disease; htTKV=height-adjusted TKV; MRI=magnetic resonance imaging; CT=computed tomography; CKD=chronic kidney disease.
References:
Schrier RW, et al. Predictors of autosomal dominant polycystic kidney disease progression. J Am Soc Nephrol. 2014;25:2399-2418.

Gansevoort RT, et al. Recommendations for the use of tolvaptan in autosomal dominant polycystic kidney disease: a position statement on behalf of the ERA-EDTA Working Groups on Inherited Kidney Disorders and European Renal Best Practice. Nephrol Dial Transplant. 2016;31(3):337-48.

Delgado, C. et al. (2022) "A unifying approach for GFR estimation: Recommendations of the NKF-ASN task force on reassessing the inclusion of race in diagnosing kidney disease," American Journal of Kidney Diseases, 79(2). Available at: https://doi.org/10.1053/j.ajkd.2021.08.003.

Irazabal MV, et al. Imaging classification of autosomal dominant polycystic kidney disease: a simple model for selecting patients for clinical trials. J Am Soc Nephrol. 2015;26:160-172.

Imaging classification of ADPKD: a simple model for selecting patients for clinical trials. http://www.mayo.edu/research/documents/pkd-center-adpkd-classification/doc-20094754. Accessed 1/11/2023.