Jennifer
Jennifer
Jennifer is 41 years old and has been diagnosed with Autosomal Dominant Polycystic Kidney Disease (ADPKD). Jennifer is considered obese and has uncontrolled high blood pressure. She suffers from repeated bouts of lower back pain and had one episode of blood in her urine. She has a family history of ADPKD and her father reached kidney failure and needed to begin dialysis at the age of 55.
Let's take a closer look at some tests Jennifer's kidney doctor has ordered to better understand how quickly Jennifer might progress to kidney failure 1,2,3.
Age

41

Height

5'4"

Weight

210 lbs

Sex

F

Race (AA/O)

O
Lab Tests
Standard Range
Serum Creatinine

(mg/dL)

0.96
0.50 - 1.20
eGFR

(mL/min/1.73m²)

88

≥

60

Blood Pressure

(mmHg)

140/90

(High, Uncontrolled)

<

120/80

Blood in Urine

Yes
Pain

Yes
Family History

Yes

(Father reached kidney failure at 55)

Other Risk Factors

Obesity
Imaging Tests
Standard Range
Ultrasound Ordered?

Yes
Kidney Length

(cm)

17.2
10-13
MRI Ordered?

Yes
Kidney Size

(mL/m)

502
150-250
ADPKD Imaging Classification

ESTIMATED AGE AT KIDNEY FAILURE65

MRI/CT SCANS
Disease Progression4-6
Kidney Size (height adjusted Total Kidney Volume)
:
502.0
mL/m
Kidney function (eGFR)
:
88.0
 mL/min/1.73m2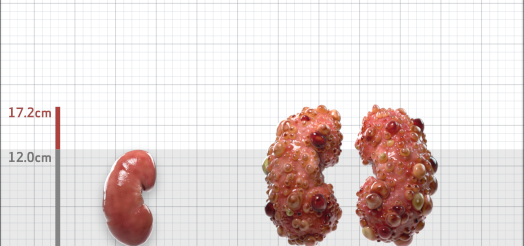 Click on the flags below to see the testing used to confirm risk of rapid disease progression as well as Jennifer's individual risk
ADPKD=autosomal dominant polycystic kidney disease; US-KL=ultrasound kidney length; ESKD=end stage kidney disease; AA=African American; O=other; eGFR=estimated glomerular filtration rate; PKD=polycystic kidney disease; htTKV=height-adjusted total kidney volume; MRI=magnetic resonance imaging; CT=computed tomography; CKD=chronic kidney disease.
References:
Schrier RW, et al. Predictors of autosomal dominant polycystic kidney disease progression. J Am Soc Nephrol. 2014;25:2399-2418

Gansevoort RT, et al. Recommendations for the use of tolvaptan in autosomal dominant polycystic kidney disease: a position statement on behalf of the ERA-EDTA Working Groups on Inherited Kidney Disorders and European Renal Best Practice. Nephrol Dial Transplant. 2016;31(3):337-48.

Wetzels JFM, et al. Age- and gender-specific reference values of estimated GFR in caucasians: the Nijmegen biomedical study. Kidney Int. 2007;72:632-637.

Irazabal MV, et al. Imaging classification of autosomal dominant polycystic kidney disease: a simple model for selecting patients for clinical trials. J Am Soc Nephrol. 2015;26:160-172.

Imaging classification of ADPKD: a simple model for selecting patients for clinical trials. http://www.mayo.edu/research/documents/pkd-center-adpkd-classification/doc-20094754. Accessed 1/11/2023.

Delgado, C. et al. (2022) "A unifying approach for GFR estimation: Recommendations of the NKF-ASN task force on reassessing the inclusion of race in diagnosing kidney disease," American Journal of Kidney Diseases, 79(2). Available at: https://doi.org/10.1053/j.ajkd.2021.08.003.